Misaligned teeth can cause problems when you speak, chew, and breathe, and affect your mental wellbeing. For some, the constant jaw pain becomes severe. For others, it may be an aesthetic reason that they decide to consult their orthodontist. Whatever your reason, Invisalign aligners can help you in straightening your teeth and improving smile.
Want to Straighten Your Teeth, but You Can't Choose Traditional Braces
With the top-quality Invisible aligners, you can get the smile you have always wanted without the pain and discomfort that traditional metal braces can cause. Some individuals cannot get metal braces due to gum or cheek sensitivity that worsens with the irritation of metal brackets. Invisible Aligners Online can eliminate that risk while providing an easy and simple way of teeth straightening.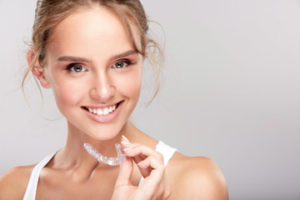 You Want to Improve Your Appearance
In business, first impressions are everything. Wouldn't you want your present smile to be clear of heavy metal braces? Of course, yes! If you feel uncomfortable in the way you look, it can impact your professional life.
When you feel confident in your smile and the way you look, you are likely to be more confident in the office. Invisalign aligners are practically invisible and straighten your teeth faster than traditional metal braces. Buy Invisible Aligners Online and boost your growth with a beautiful smile.
Feeling Severe Pain and Discomfort
A misaligned bite can cause pressure in your mouth and jaw. Severe jaw pain can radiate up your face and cause headaches. The right alignment of your bite is important to your overall health. If you are experiencing pain and discomfort, seek immediate attention from your orthodontist. Your orthodontist will be able to determine if it is the misalignment of your teeth that is causing the problem. He/she can then assess if you are a good candidate for Invisalign aligners or another procedure to adjust your bite.
Looking for an Affordable Teeth Straightening Option?
While Invisible aligners costs more than traditional metal braces, you will save money comparatively. With traditional metal braces, they need to be adjusted on a regular basis, which requires a new orthodontic appointment each time. This means taking time off of work, visiting their clinic, and waiting in the waiting area for the procedure. With custom Invisalign aligners online, you can treat both minor and intermediate alignment from the comfort of your home.
Choose Cheap Invisible Aligners Online
You can order your customized Cheap Invisible Aligners online from the comfort of your own home with us! Begin your teeth straightening journey with the iHome Dental. Contact us to know more about custom Invisible aligners and how it can provide you with the beautiful smile of your dreams.