Dental braces removal day is the most exciting day of any orthodontic patient's treatment, but it is not where your dental treatment ends. Here comes the removable teeth retainers, to make sure that your smile is well-aligned. The Hawley teeth retainer is perhaps the most well-known kind of teeth retainer used for keeping teeth in place after orthodontic treatment.
What is a Hawley retainer?
A Hawley retainer is a removable teeth device made of wire and hard plastic material. The wire from the teeth retainer will wrap around the front of your teeth and the hard acrylic base will sit against the roof of your mouth. There are two wires present in the back of the teeth retainer to help keep it in place in your mouth. Hawley retainers are removable type of retainers and are considered as an affordable choice for teeth retention.
How Do Hawley Retainers Work?
A Hawley retainer is used to maintain the alignment of the front teeth after dental braces are removed. Hawley teeth retainer comes with an acrylic plate designed to fit comfortably on the lingual walls or palate of the mouth while the wire wraps around the teeth and helps them to maintain their position.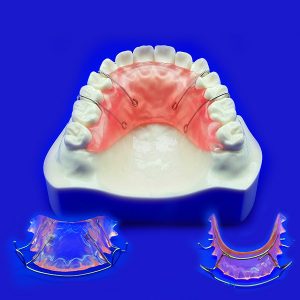 The teeth retainer protects the results of your orthodontic treatment, and prevents your teeth from sliding back into their previous positions. The Hawley retainer must be worn for one hour in a day, so your healthy smile is maintained for as long as possible. Teeth retainers can be used after treatment with dental braces or clear teeth aligners like Invisalign.
A Hawley teeth retainer is quite easy to use, comfortable to wear, and effective at retaining the results of your restored smile, as long as it is used as directed. Hawley retainers are available in a variety of colors.
The colorful part of the teeth retainer is the hard acrylic plate that sits on the roof of your mouth, which is connected to metal wires that keep the teeth retainer perfectly in place. The acrylic material can be cast in nearly any color, enabling you lots of customizable choice to love and make your teeth retainer your own.
How to Clean Hawley Retainers?
Hawley retainer is easily removable and cleaning of this custom teeth device is essential for effective retention of your desired smile. So keep it safe always. Keeping your customized Hawley retainers safe and clean will only enhance the end result of a stable smile. To enhance the life of your removable Hawley retainer simply brush it with the toothpaste and water after each use.
To insert or remove your hawley retainer, use both hands and push on or pull off evenly with your thumb and index finger. It may take few days for your tongue to get used to the teeth retainer and then your speech will return to its normal state.
Order Custom Hawley Retainer Online
Customized teeth retainers are available online for half the price of the dentists office with us!. Order teeth impression kit online from the comfort of your own home and get your custom Hawley retainers. Contact us today to know more about our top quality custom Hawley retainers.